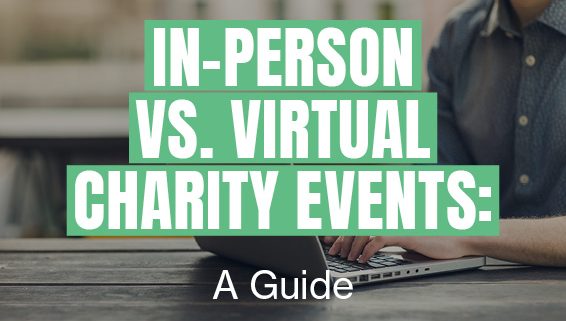 In-Person vs. Virtual Charity Events: Key Considerations
Virtual events are here to stay as a now-standard option for diversifying your nonprofit's event calendar. But that doesn't mean classic, in-person experiences are a thing of the past – far from it. Instead, nonprofits are now faced with more options when it comes to choosing the format of an upcoming event.
There are benefits to both in-person and digital fundraising, as well as hybrid options in between. Everyone can agree that the best fundraising practices include both digital outreach and personal engagement with supporters. So, how do you decide which event format is best for your next fundraiser? We'll break down the details of each, allowing you to decide what best fits your upcoming fundraiser.
In-Person Events
When planning a nonprofit event, impact should be a top consideration since a cause will only be supported if it is significant to donors. How do you leave a lasting impression on your supporters? Face-to-face interactions are personal and memorable experiences that can show your supporters why your cause is so important.
The Pros
Meeting and working with people in-person can greatly impact your organization's supporters because traditional formats of communication have the opportunity to be more personal. For example, a hand-written letter is more personal than an automated text message. Likewise, in-person events can facilitate more personal connections with your supporters than a purely digital fundraising strategy can.
In-person relationships can also foster trust and loyalty that will help future fundraising efforts. Supporters might feel more connected to your nonprofit when they personally know the members of your organization. When you host future fundraisers, such as peer-to-peer or annual giving campaigns, those supporters will be more likely to donate because they have the foundation of a personal relationship with you and with your organization.
The Drawbacks
Since the brunt of the COVID-19 pandemic, our world tends to function best with the convenience of online tools. Now that people know the power that digital platforms hold with keeping people connected, there's a new expectation of online options for every activity. For example, live-streaming events and meetings on Zoom have practically become a standard for most organizations. As a result, finding large audiences who are willing to gather in person may still present difficulties.
Willingness to attend might not be the only barrier to securing an in-person audience. Depending on the activity, you may only be able to gather people within your immediate community or surrounding areas. Virtual events, in contrast, can reach an audience worldwide.
In-person events are also often more expensive to plan and host. Considerations like venues and food can be costly, ramping up the pressure to generate a higher return via donations.
Virtual Events
Nearly any event can be hosted virtually. With online tools being highly customizable, there is much room for flexibility when it comes to supporting or donating to your cause.
The Pros
There is great opportunity for uniqueness in a virtual event. CharityBids notes that virtual events allow more options for giving by using online tools, and can also offer unique experiences, such as celebrity appearances or performances, that can create an incredible impact when leveraged creatively. Virtual events may also often be more convenient and cost-effective to host, as they don't call for venues, decorations, and catering. While online tools and entertainment are certainly an investment, it is generally easier for organizations to maintain lower budgets when opting for virtual events over in-person options.
Virtual events are also beneficial for the convenience of the attendee. For example, donors from all locations can log in to a virtual fundraiser without disrupting as much of their daily lives, habits, and responsibilities. Plus, once you have a reliable virtual platform in your toolkit, you're not limited to fundraising events, and can make use of these tools for other important meetings and volunteer opportunities. With virtual options, your supporters won't miss out when they can't make it in person.
The Drawbacks
Virtual events don't always provide the opportunity for networking and connecting. You might not get to know your supporters on a more personal level through online interactions, and your supporters won't have the opportunity to get to know each other better, either.
One of the most impactful aspects of your nonprofit is the sense of community that your supporters gain from being part of a cause with like-minded people. Interpersonal connections are crucial to the success of your event.
Even though virtual events have become increasingly more popular since the pandemic, organizations that are new to them will inevitably have to invest in start-up costs initially. Both time and funds need to be allocated to the process of determining what works, and what doesn't. Trial and error is more or less inevitable.
Choosing the Right Event Format
Weigh the pros and cons of each type of event before you start planning. Depending on the goal of your event, you might choose one type over the other. Consider these factors when choosing:
Timeframe and budget
The type of event you want to host
Objectives/goals for the event
Donors' existing expectations for that type of event
Previous event performance with data on different formats used, if applicable
When it comes to other decisions in the planning process, you can be creative and effective with  either format. For example, working with expert event designers and producers is a surefire way to streamline the logistics of both major in-person and virtual events.
OneCause advises determining which type of event your supporters would prefer. You might ask them directly through an email survey or social media poll, which can provide you with the feedback you need to understand how to meet their needs.
If you choose a format that your donors aren't used to, you can still meet their expectations. Virtual charity events abounded during the pandemic, and still continue to thrive. Even though virtual formats weren't common at the time, they ultimately changed the way people host and attend events.
The good news is, if you're still undecided, almost any event can be turned into a hybrid experience, such as charity auctions and food drives. This blended approach maximizes visibility, and gives your supporters the flexibility to decide how they want to be involved.
Having options ensures inclusion, and provides your supporters with the option to choose.  While certain restrictions may prevent some from being able to attend in-person or get involved online, hybrid events provide them with the ability to opt for their preference.
---
The basics of nonprofit events include customization, engagement, and awareness. Make your event unique to your organization, keeping in mind how to best connect with your supporters and bring awareness to your cause.
Many factors go into nonprofit event planning, but each event should ultimately serve your supporters' needs as it simultaneously accomplishes your organization's goal. The opportunity for personal connection is important, yet widespread outreach and convenience are similarly essential. Striking the right balance for your unique event, audience, and goals will help you choose the ideal format, and surpass your fundraising objectives.
https://www.crowd101.com/wp-content/uploads/2023/07/CharityBids_Crowd101_In-Person-vs.-Charity-Events-A-Guide_Feature.jpg
424
566
Crowd 101
https://www.crowd101.com/wp-content/uploads/2020/09/Crowd101-logo.svg
Crowd 101
2023-07-24 14:51:56
2023-07-24 14:51:56
In-Person vs. Virtual Charity Events: Key Considerations