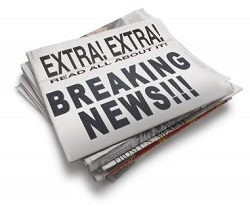 Must Read Crowdfunding News and Tips of the Week
Crowd101 News is a weekly recap of the biggest headlines and analysis in the crowdfunding industry. I keep track of all the best posts and news to highlight here on the site every Tuesday. Click through the links in the content to the original article.
Let me know if I miss anything you think readers would want to see.
Crowdfunding comes to College Sports
In the most interesting headline I saw last week, crowdfunding site FanPay recently launched with its site that allows college athletes to collect donations after they have graduated. The site has been under constant attack with more than 100 cease-and-desist orders from institutions and organizations.
So far, donors have funded a combined $1,250 for 15 ex-college athletes. It's a really interesting concept but I wonder if the crowdfunding platform will be able to survive against what will surely be an ongoing legal battle. Here's an idea for the NCAA and other organizations fighting the site, how about sharing some of those billions with the people that are making it possible.
Kickstarter Drops Amazon
Kickstarter has dropped Amazon Payments and partnered with Stripe to make collecting and processing payments easier. The biggest change is that payment processing can all be done on one screen, on the Kickstarter platform, instead of being redirected to Amazon.
I never had a problem with the Amazon service but it will be more convenient to do the processing directly from the Kickstarter page rather than have to click through to a different page.
2014 Crowdfunding on Kickstarter
Crowdsourcing posts a rundown of 2014 crowdfunding numbers released by some crowdfunding platforms. Kickstarter helped fund 22,252 projects on its platform with $529 million in donations, a 10% increase from the total donations pledged in 2013. While the platform is still growing, that 10% increase is well off the 50% increase seen over the previous year.
Kickstarter also released some interesting information on donations and categories. Technology, Games and Design continued to command the largest amount of dollars pledged (shown below). More than three million people from all over the world backed projects with 2.2 million new backers on the site.
Tuesdays, Wednesdays and Thursdays were the most popular days for pledges, accounting for half the total weekly pledges. Intuitively, pledging picks up quickly from 7am before leveling off after 11am and holding steady through the rest of the day. January and February were the outliers with a little less than 1,300 projects during the months. The rest of the months saw an average of around 2,000 projects each month.
The info is pretty interesting and worth a look. Not sure if it really makes much of a difference but it seems to suggest that you should overweight your crowdfunding campaign marketing to Tuesday, Wednesday and Thursday and reach out late-morning or later.
Coming Battle for States' Rights
Crowdfund Insider highlights a potential legal hurdle for crowdfunding platforms when it comes to federal rules and special state exemptions. Thirteen states and the District of Columbia (AL, GA, ID, IN, KS, ME, MD, MI, TN, TX, VT, WA, WI) now have some form of crowdfunding exemption that allows investment or sponsorship by people that do not fit federal accredited investor rules.
I love the fact that states are being proactive as the federal government shuffles its feet on democratizing crowdfunding to everyone but the article does have a valid point. Real estate crowdfunder Fundrise is used as the example of platforms choosing to do business in exemption states but operate on federal rules. The fear is that, once federal rules are passed, there will be a conflict with state rules that could cause problems for platforms. I have a call scheduled with Fundrise co-founder Dan Miller today and plan on hitting the issue for a post scheduled for next week.
Best of Crowd101 this Week
One of the most common questions I get is on setting realistic crowdfunding goals, a topic I detail in a post last week. While you're budget may say you need $100,000 it is important to remember that only 2% of campaigns raise that amount or more. Nearly three-quarters (72%) of campaigns raise $10,000 or less. Follow tips in the article to set and meet your goals.
Want to know the biggest benefit to a crowdfunding campaign? It's not the money! Crowdfunding outreach lets you expand your marketing and connect with thousands of potential buyers at very little cost. The top Kickstarter crowdfunding campaigns last year had millions of people clicking through to look at their page, a whole page dedicated to the cause or business. That kind of exposure can be priceless.
While you can run a crowdfunding campaign on next to nothing, should you? I run down the top resources for crowdfunding marketing and how to get the best bang for your buck in advertising.
https://www.crowd101.com/wp-content/uploads/2014/11/newspaper.jpg
206
250
Joseph Hogue
https://www.crowd101.com/wp-content/uploads/2020/09/Crowd101-logo.svg
Joseph Hogue
2015-01-13 09:00:05
2015-01-13 09:00:05
Must Read Crowdfunding News and Tips of the Week