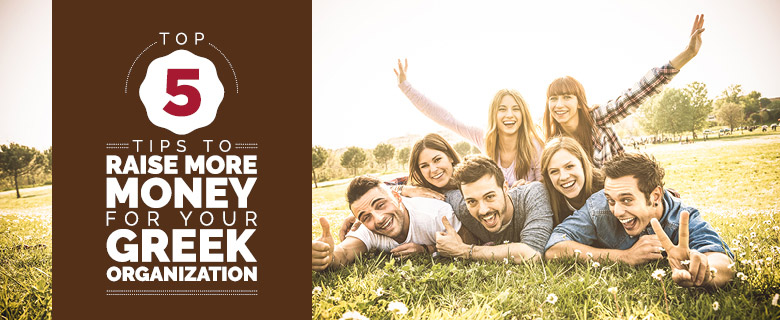 Top 5 Tips to Raise More Money for Your Greek Organization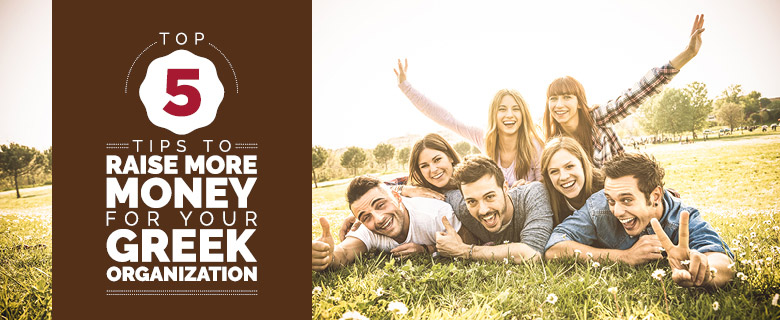 This post was contributed by our friends at OmegaFi. 
Greek organizations, like all other nonprofits, survive only with the support of their community. As a fraternity or sorority chapter officer, fundraising is likely always at the forefront of your mind. After all, without sufficient funds, your Greek organization can't function properly. 
However, hosting a successful fundraiser for a college organization is much easier said than done. There are so many factors that go into hosting a successful fundraiser, and you and your members are likely also busy with college classes. Therefore, your fundraisers need to be designed for maximum efficiency — they must help to maximize your fundraising potential without adding too much extra stress. 
In order to increase your ability to engage your community with events and initiatives, you must have a rich support system. To raise more money with minimal extra hassle, follow these tips: 
Your Greek organization should be able to reach its full potential and create an amazing environment for chapter members as they experience and progress through college. Sororities and fraternities are integral to the college experience for many who attend, and service-oriented organizations, in particular, contribute even more significantly to the welfare of their surrounding community. 
Are you ready to find out how you can effectively and efficiently raise money for your Greek organization? Let's get started! 

1. Find financial management software. 
Fundraising can easily become an overwhelming and stressful undertaking if you are unfamiliar with the best ways to conduct a fundraiser. One of the biggest mistakes is trying to manually manage a fundraising campaign instead of adopting the right tools for the job. In this case, look for financial management software that is specifically designed to appeal to your type of organization. 
There are so many software solutions on the market, so it can be difficult to know which is most useful for a Greek organization like yours. When in doubt, look for tools that contain Greek organization-specific features. Check out the OmegaFi Vault financial management solution for an idea of the level of specificity to look for. Your financial management software should: 
Provide top-of-the-line customer service.

Don't let your fundraisers derail in the middle of a campaign. Access to a financial expert will help you overcome any hurdle fundraising throws at you. 

Help you track your semester's budget.

To better plan and execute your fundraising campaigns, you need to be aware of your chapter's budget and needs. The most successful campaigns set reasonable goals based on the actual needs of the organization. 

Enable you to pay bills.

Fundraising campaigns, like elaborate fundraising events,  sometimes involve upfront expenses that must be paid in order for your organization to start generating an ROI. Your software should help you easily plan ahead to pay these so you can keep fundraising.

Be accessible on-the-go.

Never be without access to your organization's financial records. If you want to check in on your fundraising status and how much you still need to raise, you should be able to access your data from the comfort of your own mobile devices. 
With dedicated financial management software, you can help your organization's fundraising campaigns stay organized. Plus, you'll be saving copious amounts of valuable time and money that would otherwise be spent on trying to juggle all the various elements of a fundraising campaign. Unnecessarily wasting time or money will ultimately detract from the success of your campaign—and when it's so easy to avoid this waste of resources, it would be silly not to.
For a deeper dive into financial management software for Greek organizations, check out this re:Charity post about the top fraternity management apps.

2. Conduct a feasibility study.
Greek organization fundraising must always begin with a feasibility study to assess the fundraising capacity of your organization. If you want to be successful, you need to do the proper amount of research so you can best utilize your limited, valuable resources. While a pre-campaign feasibility study will help you understand the needs and abilities of your organization and enable you to set reasonable goals, that is not all this can accomplish. 
 A feasibility study will also help your organization: 
Identify top donor prospects. 

Recognize potential volunteers. 

Get to know your donor network. 

Get donors involved in your campaign early. 
A feasibility study will enable a third-party consultant and members of your organization to visit and cultivate relationships with important alumni and other donors. This relationship is important to continuously cultivate over a long period of time. Look for a third-party consultant who specializes in Greek organization fundraising. Our recommendation? Pennington & Company. 
This holistic understanding of your Greek organization's appearance among its constituent network will inform all of your fundraising decisions and allow you to make smart decisions that expertly use the resources you have available to you. 

3. Get chapter members involved. 
There is no need for your chapter's officers to bear the burden of fundraising alone. Fundraising can be a great opportunity to unite as a whole chapter and work together toward a common fundraising goal. One easy way to get your chapter members more involved with your fundraising goals is to encourage them to promote your campaign within their own social networks.
Let chapter members engage more deeply with your sorority and fraternity management by becoming active participants reaching out to friends, family, and alumni for donations. 
Your Greek organization can easily set up a campaign page online that appeals to your community, your members and their families, and your alumni—in short, everyone most likely to donate to your organization. 
Once you design your campaign page, your members can take matters into their own hands and share the page across all of their social media pages, including Twitter, Facebook, and Instagram. 
This form of outreach will not only raise more money for your organization quickly, but it will also raise awareness for your sorority or fraternity more generally. When your members share your campaign page with all of their friends, family, and followers, more people are hearing about your organization and its work in the community than would otherwise be possible. 
The more people know about your organization, the more likely you'll reach someone who is willing to give, or at least pass on the information to their own social networks. This is also an excellent way to reach potential new members (PNMs) who will bring in more funds by paying dues. 
Engaging existing members in your fundraising campaign can greatly increase your ability to raise money and spread the word about your sorority or fraternity in your community. 

4. Focus on storytelling.
No matter what fundraising method you choose, whether it be hosting an event or a fierce mailing campaign, you need to anchor your strategies with storytelling. People want to feel an emotional connection to whatever organization they are donating to. Storytelling will help share with others the values, origin, and beliefs of your organization and express why you are deserving of their support. 
Storytelling in your fundraising campaign can take a lot of different forms, but regardless of the form, you should make sure your story is clearly communicated, emotional, and relatable. 
The process of storytelling draws on individuals' tendency toward empathy. When we hear a story, we instinctively imagine ourselves as characters in that story. The brain tunes in more closely to what the speaker is saying and latches on to details more readily than if it were merely hearing a list of objective facts. 
Using effective storytelling can help make your fundraising campaign work better by being more memorable and emotionally or intellectually engaging. Your fundraising appeal can utilize storytelling techniques by sharing the following: 
Your origin story.

Tell your audience why your sorority or fraternity was founded and how it came to be in its current state. Answer the following: what challenges did you face, how did you overcome them, and why should your audience care? 

Your mission.

Describe what your Greek organization offers the campus it is a part of and how you have impacted the community around you. 

Personal testimonies.

Allow your officers and chapter members to share their personal experiences as a part of your organization and convey how it has personally impacted the lives of its members for the better. You can even use your

Greek organization software

to communicate directly with your members and ask for people to share their personal testimonies. 

Your goals.

Be sure to elaborate upon concrete goals that your fundraising is trying to support. Tell a story about a previous fundraising goal and what you were able to reach with the help of previous donors, and then describe the good work you did with that support. 
Your donors want to relate to the personal aspects of your organization. Storytelling will engage donors more deeply than any other type of fundraising strategy.

5. Incentivize your fundraiser. 
If you are trying to reach a serious fundraising goal and are unsure how you are going to make it, consider incentivizing your supporters to donate in more strategic ways. People are more likely to donate if they get something in return. Offer incentives like branded merchandise in exchange for your audience's support. This is perfect when selling tickets or admission fees for an exclusive event. 
Branded merchandise the best possible incentive you can offer, because not only does it give the recipient a tangible reward for donating, but it also delivers long-term ROI by serving as advertising for your chapter. Branded t-shirts are one of the most popular branded merchandise offerings by nonprofits, especially sororities and fraternities. 
Using a t-shirt fundraising platform like this one, you can allow people to purchase a branded t-shirt while your organization receives 100% of the proceeds from the sale. 
Other great options for branded merchandise include: 
water bottles

wristbands 

bandanas

stickers 
The benefits of branded merchandise don't end when your fundraiser does. Branded merch serves as a reminder of your organization to all your fundraiser participants long after your fundraising campaign ends. This will keep your Greek organization in the minds of your supporters and increase the likelihood that they donate to future campaigns. 
Promoting your fundraising campaign is so much easier when you can promise something to your donors in exchange for their support. 
---
Your sorority or fraternity chapter should be able to keep running smoothly with these easy techniques ready to go whenever you need. Set your Greek organization up for success by following these tips for raising more money. 
Author: David Ebner
David is a marketing executive, public speaker and author that specializes in the effectiveness of storytelling in building revenue. As the VP-Marketing for Togetherwork, David leads an in-house marketing agency that provides a depth of services to the numerous partner companies within the enterprise.
https://www.crowd101.com/wp-content/uploads/2019/08/OmegaFi_Crowd101_Top-5-Tips-to-Raise-More-Money-for-Your-Greek-Organization_Feature.jpg
320
780
Joseph
https://www.crowd101.com/wp-content/uploads/2020/09/Crowd101-logo.svg
Joseph
2019-08-05 17:27:21
2019-08-05 17:27:21
Top 5 Tips to Raise More Money for Your Greek Organization