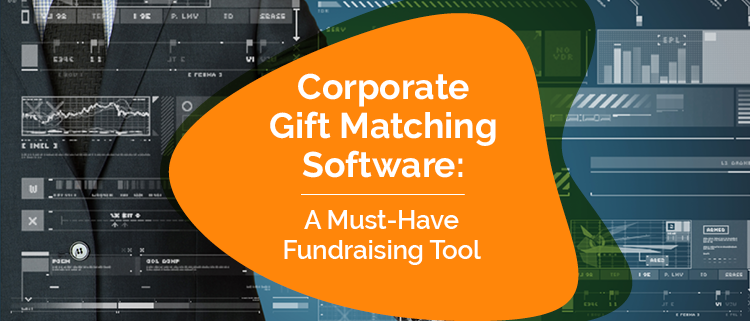 Corporate Gift Matching Software: A Must-Have Fundraising Tool
You already know that the value of fundraising cannot be overstated, and the best ways to fundraise are constantly growing and changing. As more and more organizations utilize pieces of the growing nonprofit technology available, you want to make sure your platform provides the best possible fundraising experience and features for your clients. 
With all of the different donation platforms, event management solutions, donor databases, and peer-to-peer fundraising pages out there, there has to be a way to set your platform apart. And there is! Corporate gift matching software allows your platform to add another valuable component to your existing fundraising experience.
The right corporate gift matching software can help your organizations raise more money through available corporate giving avenues, better engage their donors, and save their staff time. 
Here's what you should keep an eye out for in your search!
A Streamlined Search Field to Identify Matching Opportunities
One of the key features of a good matching software is a search field that simplifies the matching eligibility process for the donor. A quick way for nonprofits to lose a donor is to have a distracting and confusing donation page, so you want to ensure your gift matching software is easy to understand and even easier to use. 
With an intuitive and suggestive search bar located directly on the donation page, the donor can identify their employer and complete their donation all in one place. The best gift matching software are those that make the matching eligibility process easy to navigate for both the donor and the nonprofit. For example, 360MatchPro by Double the Donation suggests employers as the donor types, even making suggestions in the event of spelling errors or if there is an applicable parent company. This differs from other solutions that require donors to go through a long, arduous process to even identify themselves as match eligible. 
The goal of a streamlined, suggestive search field is to begin the gift matching process without confusing the donor. And with 1 out of 3 people saying they would give a larger gift if they knew they were match eligible, it just makes sense to utilize a gift matching software that informs the donor of their eligibility status as they make the donation.
Simple Matching Gift Submissions: A Few Clicks then Complete
Another important piece of any gift matching software is the associated prompts and reminders the software sends out to drive matching gift requests.
It doesn't always occur to donors to complete the gift matching process after they have been identified as match eligible. This makes it incredibly crucial for the gift matching software to point donors in the right direction during the donation as well as after the donation is completed. But, you don't want to leave your nonprofits manually composing emails every single time a donation is made. 
Ideally, your gift matching software will allow your clients to send automated, customizable emails to donors upon the submission of their donation. These emails serve both as a reminder and as a guide on how to complete the gift matching process making it easier on the donor and the organization. The best and most effective matching gift software even allows donors to start the matching gift process directly from their email. This means donors can kick off their matching gift process with just one click!
Plus, studies show that emails sent within 24 hours of a donation have a 53% open rate, which is 2-3 times higher than that of the average nonprofit email open rate, so you want a gift matching software that sends those emails automatically to increase the chances of completing the match and acquiring those extra dollars.
Data that Drives Results 
Gift matching software also has the unique opportunity to provide organizations with insights and analytics coming directly from their donors. Live tracking information such as matching gift status or email open rates allows organizations to keep their records up to date and adjust communication strategies as they see fit. Your platform already provides valuable insights, and the right gift matching software can allow you to provide organizations with even more (with no added work for you)! 
As your platform continues to provide innovative and modernized support for nonprofits, you can provide them with more resources, information, and even donations with the data provided by gift matching software. However, with great data comes great responsibility which is why it is absolutely imperative that your gift matching software prioritizes data security.
A gift matching software should always protect your donors' personal information. Your platform as well as the nonprofits who utilize your platform should ensure that individuals feel safe using your programs. For example, 360MatchPro by Double the Donation uses industry-leading security protocols such as AES-256 data encryption, vulnerability scanning, and intrusion detection software.
A Formalized Integration Process For Simple Implementation
Lastly, the best gift matching software programs make the hard work easy. Your time is valuable and the last thing you need is to be spending it all troubleshooting as your clients work new software into your existing system. A formalized implementation process is the ideal way to quickly and efficiently implement a gift matching program.
The ideal gift matching software integration should be easily accomplished in one sprint. The process should be easy to understand, easy to follow, and easy to execute. 360MatchPro by Double the Donation has a simple, well-documented implementation process which means in just a few clicks, nonprofits using your platform can be matching their donations. And with their extensive partnership portal, your technical team can follow step-by-step instructions to get up and running in no time. This detailed documentation will make the implementation easy for your team – saving you time and effort!
Gift Matching Software Drives Revenue for Your Clients
As you continue to find and build ways for nonprofits to increase their revenue and do good, you want to have a dynamic platform that is always evolving to help your clients make more money. There are many ways to drive revenue for your clients and incorporating gift matching software is a good place to start. 
Adding a corporate gift matching software to your platform is a win-win-win, it enriches the features available through your platform, provides a stickier solution, increases revenue for nonprofits, deepens donor relationships, and establishes a deeper connection between the donor and the mission they are passionate about.
As you look to implement gift matching into your existing platforms, remember to consider the features discussed above. A streamlined search field, automated customizable emails, real-time data insights, and a simple implementation process can change the way nonprofits fundraise and communicate.
https://www.crowd101.com/wp-content/uploads/2022/07/Corporate-Gift-Matching-Software-Cover-1.png
375
750
Crowd101
https://www.crowd101.com/wp-content/uploads/2020/09/Crowd101-logo.svg
Crowd101
2022-07-06 22:09:45
2022-07-06 22:35:01
Corporate Gift Matching Software: A Must-Have Fundraising Tool