Millie Spotlight | Make the Most of Employee Giving
Did you know that each year, approximately $5 billion is raised by nonprofit causes through workplace giving? And yet an additional $4 to $7 billion in matching gift funds alone go unclaimed on an annual basis?
This is according to top corporate giving statistics⁠—which just goes to show the importance of equipping your team with the tools you need to make the most of giving programs available to you.
One of the best ways to do so is by utilizing corporate giving platforms to your greatest advantage. And that's why we've put together this Millie spotlight to provide a closer look at one powerful solution. Established in 2018, Millie is a Public Benefit Corporation dedicated to revolutionizing the employee giving experience for companies and their employees through their innovative social impact platform.
In this guide, we'll cover some of Millie's most prominent offerings, which include:
Companies that organize matching gift programs for their employees are more and more turning to corporate giving management technology to help facilitate the process and increase philanthropy in the long run. Yet it's not just the businesses that benefit from these tools. Nonprofits like yours can use the solutions to attract new supporters through employee giving opportunities, simplify the workplace program participation process for donors, and more.
Let's dive in with an overview of the employee giving platform in this Millie spotlight.
Matching donations
One of the key functions of any corporate giving platform, including Millie, is managing matching donation programs. That's because they're one of the most popular forms of corporate philanthropy, let alone workplace giving, and there can be quite a bit of moving pieces to facilitate.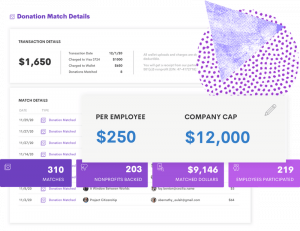 Companies use software like Millie to screen for verified nonprofit causes, manage employee match requests in a single click, and disburse funding to approved organizations effectively.
At the same time, employees use Millie to submit their matching gift requests and provide information about their personal donations. And nonprofits use Millie's portal to create a profile as a verified nonprofit cause and confirm initial donations that were made to drive forward the disbursement process.
New! Matching gift auto-submission functionality with Double the Donation
In order to make matching gifts easier than ever, Millie teamed up with the leading provider of matching gift software for nonprofits, Double the Donation.
Thanks to an integration between the platforms, Double the Donation and Millie can now offer seamless matching gift auto-submission.
Whereas donors used to be required to complete a separate matching gift request following their nonprofit donation, this new functionality makes it so that all an individual has to do is provide their corporate email address and click "submit." Together, Double the Donation and Millie will handle the rest!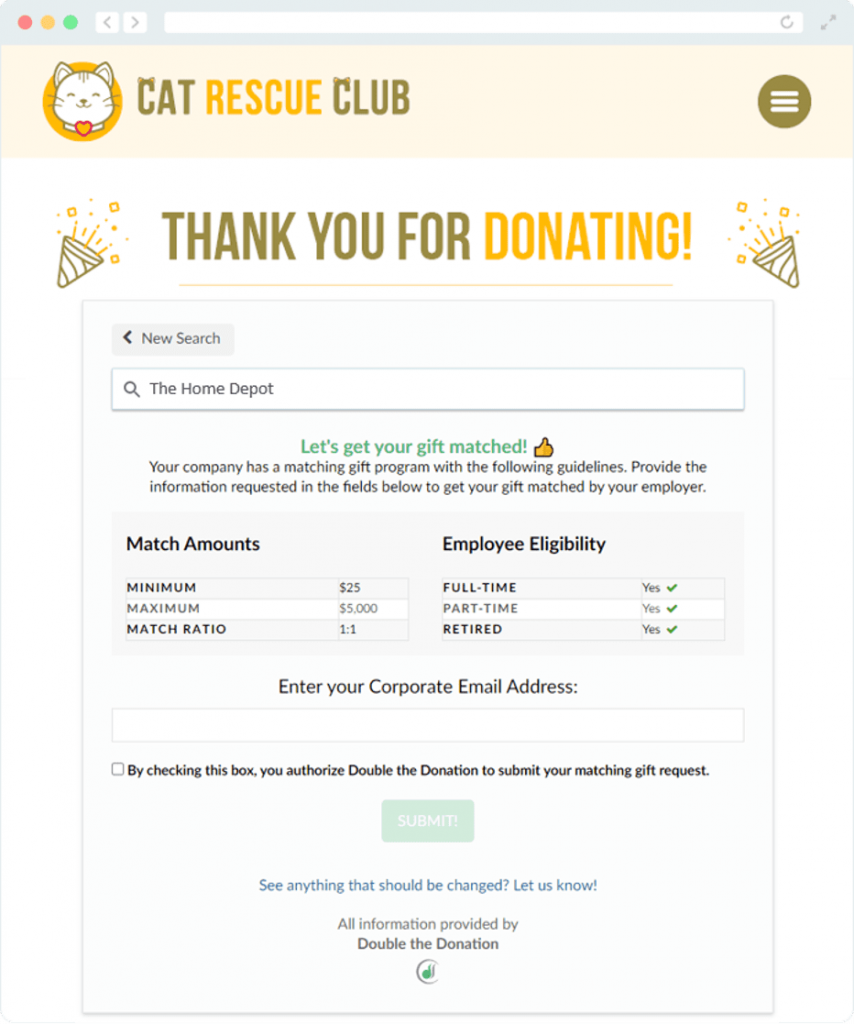 The quicker and simpler the process, the more matching gifts will ultimately be driven to completion⁠. This means more match funding secured and fewer available matches left unclaimed.
Employee volunteerism
Volunteering is another powerful way for individuals and groups to support the nonprofits they care about⁠ in a particularly hands-on way. Corporate leaders have also found that group volunteering opportunities can be extremely rewarding in terms of team-building and improving the company culture⁠—thus, why corporate volunteerism continues to grow.
And Millie has the tools to help pair philanthropic-minded companies and their employees with mission-focused organizations in their communities and beyond. Specifically, Millie's volunteerism tools are designed to aid teams in planning and executing in-person and virtual volunteer events. They also enable corporate users to locate nonprofit partnership opportunities, manage sign-ups, track hours volunteered, and communicate social impact with ease.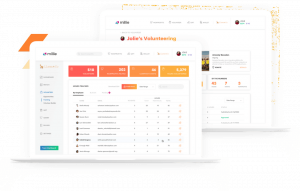 Millie can also help companies facilitate volunteer grant programs, which are also known as "dollars for doers." When a company's employees volunteer with nonprofit causes they love on their own time, they're able to request corporate grant funding on behalf of the organization.
For nonprofits receiving volunteer grant funding, the dollars can add up quickly! Research shows that 80% of companies with volunteer grant programs contribute between $8-$15 per volunteer hour. Not to mention, nonprofits also benefit from the volunteer support itself.
Charitable gift cards
Another less common but still extremely impactful workplace giving strategy offered by many companies⁠—and made possible with Millie's CSR platform⁠—is known as charitable gift cards.
Companies offering this type of philanthropic workplace giving benefit are able to provide digital gift cards to their employees (and sometimes even customers and prospects, too). Upon collecting the gift card, the recipient is able to gift the balance to a nonprofit organization of their choice.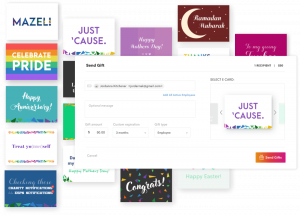 From the employee's perspective, this can be a great way to support the causes they care about without having to pay out of their own pocket. Meanwhile, from the company's end, they are able to provide funding to nonprofit organizations while simultaneously engaging their own teams. And don't forget about the nonprofit, which receives free donations made possible by the company and its employees.

Giving challenges
Another standout feature offered by Millie is their Giving Madness challenge. Specifically, Giving Madness is a unique bracket-style giving campaign structured like the NCAA men's basketball tournament, March Madness.
In this campaign, companies start with 16 nonprofit causes that their employees support.
Employees are then encouraged to vote for their favorite charities with their dollars, with winning organizations continuously advancing through the rounds. In the end, one organization is crowned champion, and the donation pool is divided up among participating nonprofits accordingly.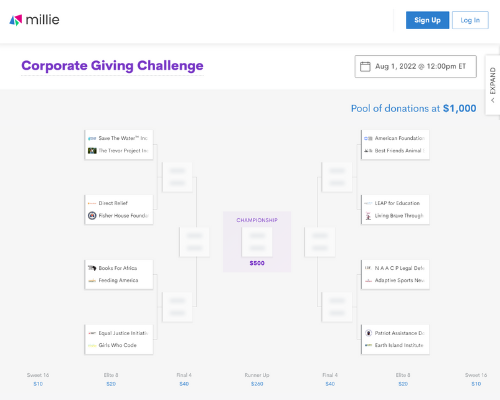 A tournament-based campaign like Giving Madness can be one of the most effective ways to drive workplace giving involvement through gamification. Employees want to get involved in the fun and, in doing so, will support organizations working to make a difference.
And from the nonprofit perspective, getting your organization included in a company's giving bracket is an excellent way to increase funding and raise awareness for your cause!
---
Main Takeaway:
Making the most of corporate giving technology is essential for nonprofits and companies to each maximize the advantages of corporate giving partnerships. And there's an additional benefit for charitable organizations—Millie's nonprofit management portal is free! When fundraisers create a profile with Millie, they are able to receive key benefits, like increased corporate funding and simplified workplace giving processes, with no added cost.
And for companies considering subscribing to Millie's corporate giving services, the return on investment from continuously improved CSR and philanthropic efforts is significant. It's a win-win for both parties⁠—not to mention the donors and employees of each.
https://www.crowd101.com/wp-content/uploads/2022/07/Crowd101_Millie_Millie-Spotlight-Make-the-Most-of-Employee-Giving_Feature-1.jpg
300
765
Crowd101
https://www.crowd101.com/wp-content/uploads/2020/09/Crowd101-logo.svg
Crowd101
2022-08-25 17:05:40
2022-08-25 17:05:40
Millie Spotlight | Make the Most of Employee Giving